...the title of a poem found in my father's wallet after his death.
Here is what it says:
Afterglow
I'd like the memory of me
To be a happy one
I'd like to leave an afterglow
Of smiles when day is done.
I'd like to leave an echo
Whispering softly down the ways
Of happy times and laughing times
And bright and sunny days
I'd like the tears of those who grieve
To dry before the sun
Of happy memories I leave behind
When day is done.
I can only guess that my father was touched by the words in this poem, which is why he kept this newspaper clipping in his wallet...it was yellowed and a bit torn, so it probably was there for a few years.
After a search on google, I was able to find the name of the author.
A few weeks after this discovery, I was on Etsy looking for some hand dyed fiber to spin. I found myself in the Etsy shop of
wildhare
. Would you believe that I came across a polwarth wool top named
Afterglow!
I knew I had to purchase this fiber, no matter what.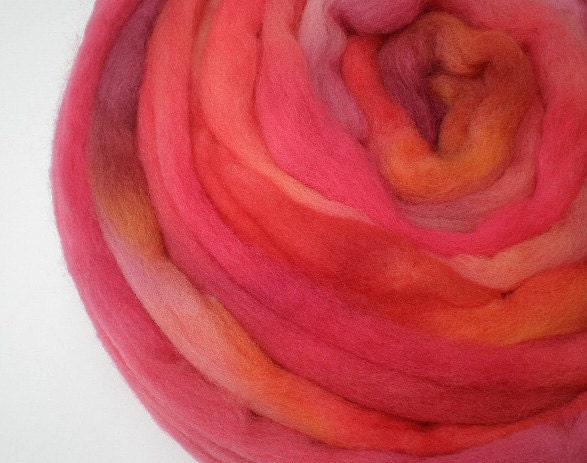 Picture from the Etsy shop of wildhare
It took me longer than usual to spin this just because I had told myself that I would spin it only when I was in the right frame of mind to remember all those wonderful moments with my father and what a very very special person he was. I spent many wonderful afternoons, spinning in the autumn sun just remembering and knowing that my father had indeed left us with a wonderful afterglow of memories.
From this fiber, I knitted a cowl and a pair of mittens.
Pattern: Ripple cowl (free from Bernat)
Needles: 4.5mm
Yarn: handspun from Afterglow polworth wool fiber from
wildhare shop
Modifications: I did only three repeats of the pattern because I ran out of yarn. But it still measures 9'' wide by 40'' long. Lot's to wrap twice around my neck.
Pattern: Top down mittens (free from
Ravelry
)
Needles: 3.5mm
Yarn: handspun from Afterglow polworth wool fiber from
wildhare shop
Modifications: none
I love knitting mittens from the top down to the cuff!
Every time I take the cowl and mittens out of the drawer and wear them, my thoughts go to him...my father.