I'm back from a busy weekend!
The 2-day craft show in Sturgeon Falls was crazy busy. It was great to talk to so many people, people I went to high school with, neighbors of my parents, relatives and friends from the past.
I brought a lot less home than what I left with which is always a wonderful feeling.
My wonderful mother helped me for the whole weekend, it was so much fun to have a partner with me.
The market for alpaca products is still very new in Canada and many don't yet know about the wonderful quality of the yarn or fibre produced by these animals.
Five times warmer than sheep's wool is an important feature in northern climates. Hypoallergenic is also an important bonus in this day and age where so many people have sensitivities and allergies of all kind. And the softness of the yarn will win anyone over.
I met one young woman that told me her hubby wears his alpaca socks all year long on the farm, even in the hot summers. Another talked about never having cold feet on the long hours spent ice fishing on the lake since she wears her alpaca socks. Others had purchased them for a bed ridden relative that was always cold and were looking for another pair.
Great feedback from satisfied customers is always good!
Even though the alpaca products play a large part of what keeps me busy now, I still love to make soap...guess I always will.
I made some gift-ready soap bags this year.
Perfect for teachers, hostesses, friends or a Kris Kringle gift.
My aunt had a table across from me selling her fudge made from a long time family recipe. My grandmother was well known for her sucre à la crème as we call it in french. (It translates to creamed sugar and believe me you'll feel the sugar high with just a small taste of it.) Memère used to make sure there was lot's of it on the table at all times and every wedding had sucre à la crème at each place setting for the guests. Now, my aunt is keeping the tradition going for others to enjoy.
This is not a chocolate fudge, although she had some of that too. It's a butter, cream and sugar treat.
I bet you could not just eat one! Mmmmmmmm!
Next to me was a talented young woman selling super beautiful mittens made from colourful felted wool sweaters. Such an eco-friendly idea.
The name of her business is Northern Smittens, what a great name!
Her new Etsy shop can be seen
here
! Let her know if you want anything and Josée will be very happy to ship it to you.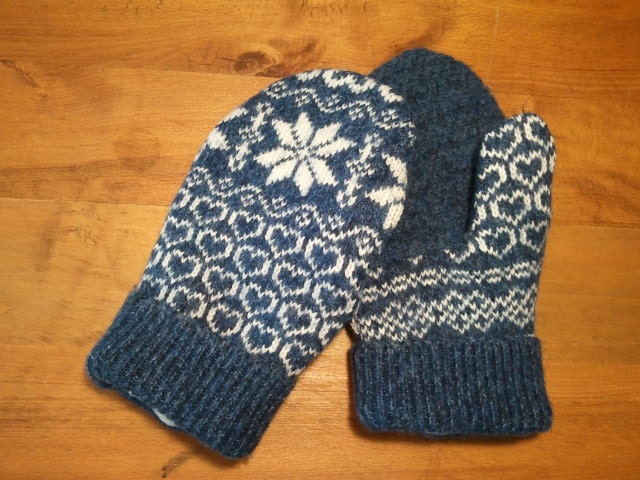 (picture used with permission from Josée)
Well, seems the week will be busy, I have a few orders to fill and then I'll get ready for the next show on Dec 2nd.
Enjoy your week!